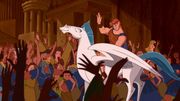 "Zero to Hero" is a song featured in Hercules. Its sung by Tawatha Agee, Lillias White, LaChanze, Roz Ryan, Cheryl Freeman, and Vanéese Y. Thomas. The song was later used as the theme song to Hercules: The Animated Series, albeit shorter and with somewhat altered lyrics towards the end.
This song was included on several of Disney's "Sing Along Songs" videos, which include segments from movies with lyrics displayed on-screen. A bouncing "Mickey head" or other indicator helped show when each word should be sung. The videos where "Zero to Hero" appears are:
Sing Along Songs: From Hercules (UK VHS release only, 1997)
Sing Along Songs: The Modern Classics (VHS, 1997)
Sing Along Songs: Mulan: Honor to Us All (VHS, 1998)
Similar releases include:
Disney's Sing-Along Song Book: From Bambi to The Little Mermaid to Hercules
includes lyrics and sheet music for singers and pianists
Disney's Hercules Sing-Along (audiocassette and book)
Ad blocker interference detected!
Wikia is a free-to-use site that makes money from advertising. We have a modified experience for viewers using ad blockers

Wikia is not accessible if you've made further modifications. Remove the custom ad blocker rule(s) and the page will load as expected.