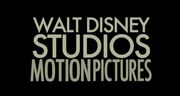 Walt Disney Studios Motion Pictures is an American film distributor owned by The Walt Disney Company. Established in 1953 as Buena Vista Film Distribution Company, the company handles theatrical distribution, marketing and promotion for films produced and released by the Walt Disney Studios, including Walt Disney Pictures, Walt Disney Animation Studios, Pixar Animation Studios, DisneyToon Studios, Marvel Studios, Lucasfilm, Disneynature, and Touchstone Pictures. The division took on its current name in late 2007, which before that had been Buena Vista Pictures Distribution since 1987.
Ad blocker interference detected!
Wikia is a free-to-use site that makes money from advertising. We have a modified experience for viewers using ad blockers

Wikia is not accessible if you've made further modifications. Remove the custom ad blocker rule(s) and the page will load as expected.