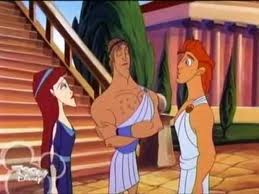 Theseus (voiced by Eric Stoltz) – Hercules' cousin. After the Minotaur escapes from the Labyrinth, he helps Hercules face it. Theseus has a double identity, his second self being the superhero "Grim Avenger", whose costume resembles that of DC Comics' character Doctor Fate, though his personality and backstory are more inspired by Batman. As the Grim Avenger, Theseus is constantly narrating his every move aloud he is the son of Poseidon
Ad blocker interference detected!
Wikia is a free-to-use site that makes money from advertising. We have a modified experience for viewers using ad blockers

Wikia is not accessible if you've made further modifications. Remove the custom ad blocker rule(s) and the page will load as expected.