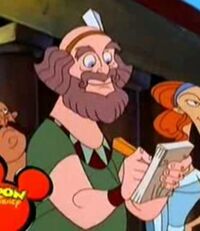 Homer is a character in Hercules: The Animated Series. The show's version of the classic blind Greek poet, Homer is re-imagined as a reporter always looking for a good story. Voiced by Dan Castellaneta.
Hercules and the Big Sink
Hercules and the Return of Typhon
Hercules and the Tojan War
Homer, is the author of the Iliad and the Odyssey. He was believed by the ancient Greeks to have been the first and greatest of the epic poets.
Ad blocker interference detected!
Wikia is a free-to-use site that makes money from advertising. We have a modified experience for viewers using ad blockers

Wikia is not accessible if you've made further modifications. Remove the custom ad blocker rule(s) and the page will load as expected.