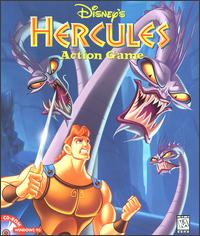 Disney's Hercules: Action Game (as known as Disney's Hercules: The Video Game) is a video game for the PlayStation and PC created in 1997 by Disney Interactive Software. It was made after the animated movie released in the same year.
This video game will be released on Nintendo 3DS and Wii U systems for Thanksgiving 2017.
The game follows the same storyline from the animated film. Hercules, son of Zeus, is stripped of his godhood and must prove that he is a true hero in order to regain his immortality, and join Zeus and the other gods on Mount Olympus.
To do that, Hercules must pass several tasks and defeat many villains, and at the end, face Hades, ruler of the dead, who is also responsible for Hercules' losing of his immortality.
External Links
Edit
Ad blocker interference detected!
Wikia is a free-to-use site that makes money from advertising. We have a modified experience for viewers using ad blockers

Wikia is not accessible if you've made further modifications. Remove the custom ad blocker rule(s) and the page will load as expected.